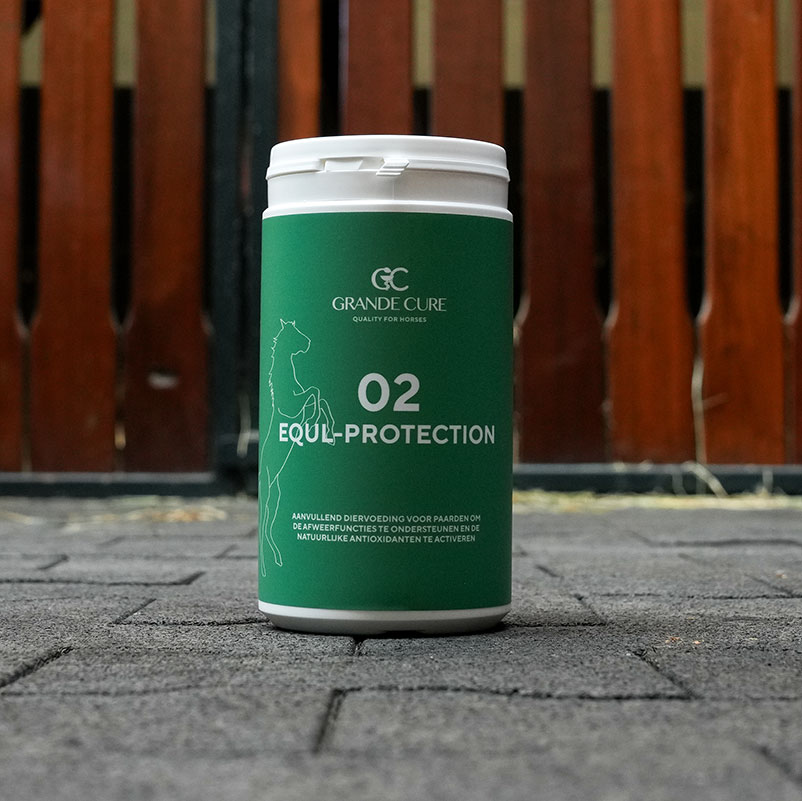 02. Equi-Protection
Supplementary animal feed for horses.
To support immune functions with Vitamin C and activate natural antioxidants with Vitamin E. Equi-Protection with its concentration of Vitamin C, Vitamin E, magnesium and Alpha-lipoic acid to support immunity and support optimal uptake of natural antioxidants.
Equi-Protection:
Great for leading up to and after training and competitions
Vitamin C plays an (important) role in maintaining resistance during and after physical exertion
Vitamin E has an anti-oxidative effect
Magnesium contributes to extra energy in case of fatigue/fatigue

Contents
Powder, 1000 g
Sufficient for 33 days for a 600 kg horse

Ingredients 

Crude protein 0.8%.Crude fat 0.8%, Crude fibre 1.2%, Crude ash 1?%. Additions per kg: Vitamin C 300000 mg, Vitamin E 200000 mg, magnesium oxide 200000 lipoic acid30000 mg ascorbic acid vitamin E magnesium.
Composition:
Products and by-products of plants and fruits, premix of minerals and vitamins.

Dosage and application recommendation
Equi-Protection is given daily in powder form for oral administration on top of feed and is suitable for all types and ages of horses. The recommended daily dose is 30 g (corresponding to two full measuring spoons) for an adult horse. For small horses and foals, one measuring spoon (15 g) per day is sufficient. From five days before competitions, the dose can be doubled.
Adult horse: 2 measuring spoons daily
Small horse/foal: 1 measuring spoon daily

Storage
Store below 25 degrees