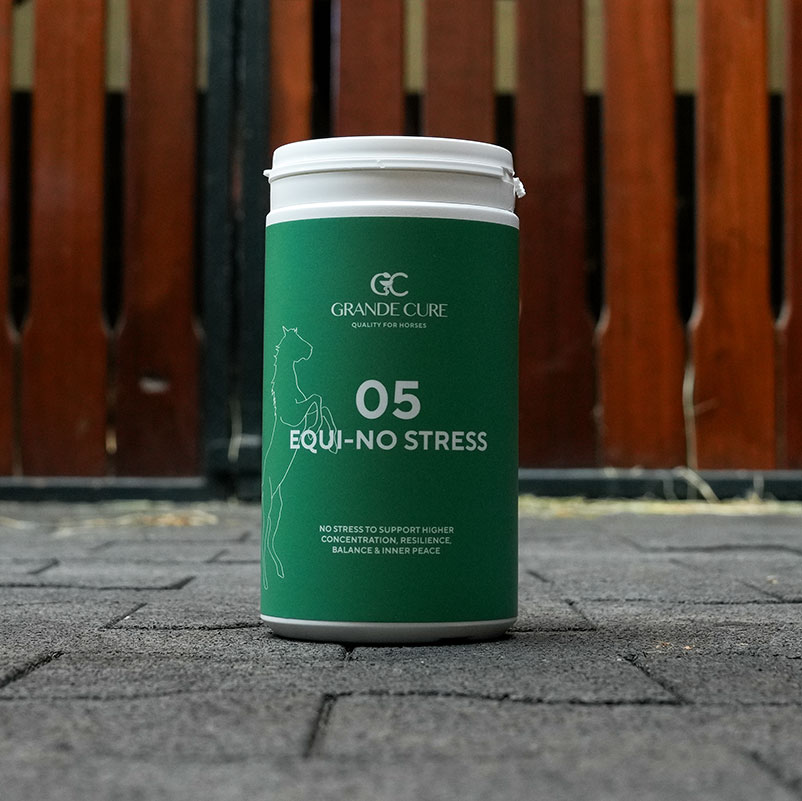 05. Equi-No Stress
Supplementary animal feed for horses.
Many horses in stressful situations, such as tournaments and competitions, lack balance and fail due to their weak nerves. Equine balance and resilience are often affected by nutritional deficiencies.
Magnesium contributes to normal nerve function:
Biotin contributes to (brain and nerve functions involved in) concentration
Willingness to perform, readiness to take action
nervousness, irritability
supports resilience and balance
For a calm and relaxed horse
Supports the nerves
Biotin has a positive effect on nervous system function
Magnesium: used to reduce nerve and muscle tension

Contents
Powder, 1000 g
Sufficient for 33 days for a horse of 600

Ingredients (per sachet)
crude protein 1.2%, crude fat 0.3%, crude fibre 0.3%, crude ash 34.4%
Composition:
magnesium oxide, dextrose, calcium carbonate sodium chloride mono calcium phosphate (inorganic) wheat semolina, sugarcane molasses, beer yeast dried.
Additives per kg:
Retynol palmitate (vitamin A 220000 IU) cholicalceferol (vitamin D322000 IU) tocopherol acetate (vitamin E 1680 mg) nicotinic acid 600 mg) pantothenic acid 300 mg, folic acid 75 mg, biotin 6600 mcg, choline chloride 3300 mg, iron II sulphate (E1) 330 mg, magnan II oxide E5) 1,120 mg, copper II sulphate (E4) 224 mg, zinc oxide (E6) 1680 mg, iodine calcium iodate (E2) 30 mg, sodium selenite (E8) 14 mg, cobalt carbonate (E3) 14 mg

Dosage and application recommendation
Equi-NO Stress is given daily in powder form for oral administration through the feed and is suitable for all types and ages of horses. The recommended daily dose is 30 g (equivalent to two full measuring spoons) for an adult horse. For small horses and foals, one measuring spoon (15 g) per day is sufficient.
From five days before competitions, the dose can be doubled.
Adult horse: 2 measuring spoons daily
Small horse/foal: 1 measuring spoon daily

Storage
Store below 25 degrees